What's Stopping You From Achieving Success?
Looking for an amazing yet affordable theme for your site? Join Elegant Themes for the all-inclusive price of $39, and you're only paying 50 cents per theme!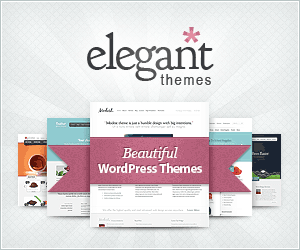 I've heard it said that the true test of a person's character is what it takes to stop them. If something small can create an impassable hurdle for you then your character is weak. If it takes a mountain of fire to hold you back then perhaps you're a bit stronger.
If you're like most people, then you've probably got some pretty wild dreams for your online presence. If you don't, then you should. You probably won't climb higher than you're reaching.
But as you move forward to accomplish whatever it is that you want to do, ask yourself what is that will stop you from moving forward. Which obstacles are you willing to overcome and which ones are going to overcome you?
In fact, I've just shared a personal story that relates to this very concept over at my personal blog. Many of you may know that I'm working hard to run a marathon before the end of the year and to achieve a terrific time while doing it. This is one of my goals and I realize that I'm going to have to work incredibly hard to accomplish it.
So when I came into work on Monday morning and it was pouring down rain, I refused to let it stand in my way of achieving my goal. To read the rest of the story check out my personal blog and you can gain a fuller understanding of what I'm talking about here.
Group Discussion
Today's post is intentionally shorter than usual but that's because I want you to control the conversation. I want you to share your thoughts about goal setting, perseverance, dedication, online success, and character.