Web Hosting And The DIY Web Designer
Looking for an amazing yet affordable theme for your site? Join Elegant Themes for the all-inclusive price of $39, and you're only paying 50 cents per theme!
Our host today is Steph Wagner. If you're interested in getting in front of the readers of Site Sketch 101, check out our guest posting invitation here.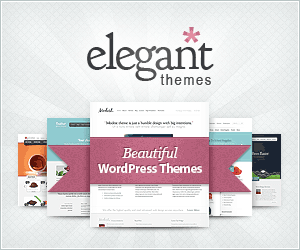 These days you hear a lot about web design and hosting. A web host is basically the middle man between you and the internet. If you want to design your own web pages and get them up online you will have to find a good web host who can provide you with all the tools you need. But before you choose the first hosting service you come across there are a couple of things you need to check first:
Note the hosting guidelines
Now if you are using a web developer to create your site, he will have to follow the web hosting guidelines, and the software that is compatible with the hosting service. If you do not create the page with the same software, the web page will not be compatible with the host. After you have completed your page accordingly, then you are free to just upload your page online and it will be viewable by everyone who visits it.
Building your own website
Many web hosting companies have made it simple to host a page these days. Once you have purchased hosting services from them, they also provide you with lots of tools to simplify the process. They offer programs that help you create web pages quickly and easily, as well as tools to simplify the upload process. Now you can build web pages without knowing complex html code and all simplified into one easy package that is completely easy to build and do it yourself. Big plus point for all you DIY guys/gals out there.
There is also simplified software out there now that helps you build web pages. If you are not used to html code, you might want to look into purchasing such software if you are going to be updating and creating a lot of web pages. Software such as Dreamweaver has simplified scripting and codes. All you have to do is use its easy interface and add your pictures and text and arrange as necessary. To finish it off, add your background graphics and you are done and ready to upload on your web hosting site. It cannot get any simpler.
Choosing hosting tailored to your needs
When you are choosing a web host, do keep your goals in mind before making any decisions. For example, if you are looking for hosting for a site for personal use, then it will not matter too much if the host runs some kind of ads on your space. But if you are going to build a corporate website, then it is better to choose an ad free host. What some web hosts do is give you free hosting, in exchange for running their ads on your page. So if you want your website to be ad free then your best bet would be to pay for your hosting and get your website exactly how you want it.
So the bottom line is lots of things vary when looking for a proper web host. Your best bet would be to go online and search different websites that give you ratings of the top 10 and other hosts out in the market today. After you chose which host is best for, you will be on your way to running your own site in no time.