The Elegance of the Snowball Effect
Looking for an amazing yet affordable theme for your site? Join Elegant Themes for the all-inclusive price of $39, and you're only paying 50 cents per theme!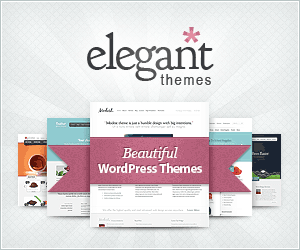 Earlier today, I jokingly sent out a tweet that said, "You want to know something fun about passive income? The later I sleep in in the morning, the more money I make in my sleep." Although I was somewhat joking, it's very true.
I make a lot of money through passive affiliate commissions. In fact, I've now gone for over a year without working a job and I make far more money today than I did a year ago as an active duty soldier in the United States Army.
Sweet Dreams are Made of This…
It probably sounds like I'm bragging, but I sleep in almost every day. I am, in the truest sense of the word, living the dream. Although I'm only 27 years old, I feel like I'm already retired. I spend my days riding my bike, tinkering on my computer on some web projects that I'm trying to create, or crawling on the floor with Emma, my 3-year-old daughter, playing like we're lions. I'm the daddy lion and she's the baby lion and when another animal comes around we roar as loud as we can to scare them away. She's got the cutest roar in the world. Guaranteed.
As a side note, it doesn't matter how big or bad you are, when you're little girl wants to play lions, you get on the floor and start crawling around. I wouldn't trade it for anything in the world.
The Snowball Effect
The Passive Income Gravy Train
A couple years ago, I discovered a WordPress Themes Club called Elegant Themes. When I did, I signed up for their affiliate program which pays 50% for each sale delivered to their site. At that time, they were charging just less than $20. I think was something like $19.95 which meant that I would get a commission of $9.98 for each sale…recurring annually. I promoted them very little back then even though it was an amazing value. As such, I made about 4 or 5 sales per month. The profit from that was hardly enough for me to really care.
However, some time ago, they changed their price to $39 which is still a phenomenal deal considering that you get access to close to 80 themes that you can use on unlimited websites. That means that I was now making $19.50 per sale. Wammy!
When they did that, I began promoting them more aggressively with banners and text ads on the site here. As a result, not only did my commissions go up, but so also did my monthly sales. They went up a lot. Double Wammy!
More sales and more money per sales. That's a formula for success.
So now I'm getting excited because pretty soon, we'll hit the one year mark since the price change. That means that I'll start getting the recurring commissions on the increased number of sales at the increased price. Triple Wammy!
It doesn't get much better than that. I'm living the dream, friends.
Thoughts, comments or observations?
I remember spending hours staring at popular websites trying to figure out why they were successful. I remember writing notes down about the observations that I made.
So today, I've not defined any specific tips or created a list of ways that you can apply this to your own online work. That's up to you. Stop by the comments below and share any ideas that you came up with from reading about my experience with this affiliate program.