Small Business Blogging vs. Microblogging
Looking for an amazing yet affordable theme for your site? Join Elegant Themes for the all-inclusive price of $39, and you're only paying 50 cents per theme!
Our host today is Laura Moisei. If you're interested in getting in front of the readers of Site Sketch 101, check out our guest posting invitation here.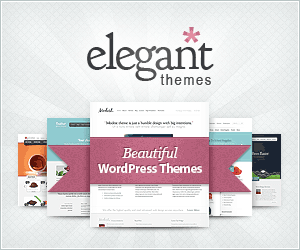 Businesses from small to medium can benefit immensely from having a company blog and, subsequently, getting into the habit of microblogging. However, not many of them actually do it. Knowing that a powerful online presence is vital for businesses these days, how to choose which method best fits your company?
Business blogs are boards for communicating with the public and partners by constantly publishing useful articles. The key notion is sharing – in this case, what you are transmitting is significant knowledge and experience you have acquired around your own business and shape an audience.
Public microblogging basically means short bites of information sent over the internet, using networks like Twitter, Plurk or BrightKite and even Facebook statuses, which are now growing in popularity. You basically have a limit of 100-some characters to communicate a message, which is just about the length of this very phrase you are reading.
Both blogging and microblogging are inbound marketing methods. They help the company to be naturally found by potential customers instead of artificially "buying" people's attention through direct advertising. Statistics point out clearly: businesses that blog and also do some microblogging are obtaining more leads and brand themselves faster than those who don't.
The first advantages in having a blog next to your company's webpage show in the rankings of the main website, as it brings a vital amount of keyword rich content. According to a study published by Hubspot (which owns credits for all the following statistics), companies that blog have 434% more indexed pages of their websites, 97% more inbound links and 55% more website visitors than non-blogging ones. This naturally provides more leads and conversions.
Sales decisions are roughly influenced by reading blogs and following Twitter trends. Twitter plays and active role in purchase decisions: 42% of the American users learn about products and services here, 28% use Twitter to look for discounts and sales, 21% to directly purchase products or services and 19% to seek for customer support. Twitter users are more likely to buy brands they follow.
Why have a company blog?
Blogging is a cost effective way to have a web presence, even without a website. It typically has a board for articles, a comments section and a feedback form. A three to five times a week posting seems to be the key to success. You gain subscribers who can turn into leads for your business. Plus it's a handy mean of providing customer support.
If figures didn't convince you, maybe Michael Wiley will, with his quote: "Blogs can help bring humanity back into the workplace. We have become so concerned with communicating numbers and processes that employees have forgotten how to build relationships. How can companies ask employees to provide superior service and innovative thinking when everything they see and hear flies in the face of that? Blogs help create a culture that supports those behaviors."
Part of the marketing mix, a company's blog brings important benefits in reputation. It puts your business it in the eyes of a public who has explicitly searched for the knowledge you provide, so you will gain the authority of an expert in the field. This knowledge roughly helps shaping the brand's image.
Some use business blogs as an opportunity to self-advertise. This is a quite wrong approach. You should remember to give useful and reliable information that readers really need. Of course, it frequently happens to use "weasel words", but it's better to keep them on a low level.
How about microblogging?
Some still perceive this as a non-business communication method, with all the teenagers tweeting about what they had for dinner. Still, it all depends on the content that's shared. In fact, Twitter plays an important role in increasing brand awareness among a large segment of people. You can use it to participate in discussions, post interesting resources related to your industry, announce special discounts and promotional campaigns.
First things first, microblogging saves time. It can be done from anywhere (on the sidewalk, in the tram, while having breakfast or in any possible circumstance you can think of). Unlike blog posts, tweets demand short attention span, which is a plus in the information overflow we are facing. Microblogging provides short term feedback and generally has a high ROI.
Twitter combines social networking and blogging in a completely new manner of communication. It's both public and social. And it can help business networking in great ways, bringing together companies from the same industry to exchange ideas and mutual opportunities.
Monitoring the microblogosphere can give you hints over the lifestyle of potential clients. Take advantage of this online interaction to give effective customer support and brand yourself with the help of WOM power (word of mouth). People follow recommendations from friends and a news about your business can get viral if acclaimed by popular trendsetters.