Group Discussion: Is PageRank Important?
Looking for an amazing yet affordable theme for your site? Join Elegant Themes for the all-inclusive price of $39, and you're only paying 50 cents per theme!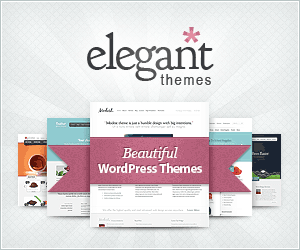 In yesterday's post, What Do We Really Know About PageRank, I presented you with the basic concepts of Google PageRank.  I then sat back as I always do and watched as the comments came in.  After all, the conversation under the posts often contains as much information as the material in the post.
Yet as I watched the comments, I noticed a trend.  Instead of people discussing the best principles for building their PageRank, many readers began minimizing the importance of PageRank.
Should We Dismiss PageRank?
I think it's a strange that people keep revisiting the idea that we shouldn't focus on PageRank but that we should only focus on our readers. The prominent concept of the conversation was that PageRank is nothing compared to the content that appeals to real users. I find it strange for several reasons.
Why aren't we appealing to both readers and search engines that bring us new readers? Why choose when it's very simple to enjoy both? Why choose when the one almost always results in the other?
PageRank is determined by inbound links. Inbound links reveal how much others are enjoying your content. Hence PageRank is a revelation of how much your actually appealing to real people. If your PageRank is low then you're likely not accomplishing SEO or writing for real people.
I also find most often that those who oppose working on PR are people with less than desirable websites. I'm not saying that this is the case here, but often those who can't seem to accomplish the task of creating awesome content in a brilliant design often dismiss building inbound links as unimportant.
Why You Should Still Care About PageRank
If you follow this me or Site Sketch 101 for very long then you'll very quickly discover that there are very few people online today that are as passionate about building our online presences through genuine connections, strong relationships, great designs and absolutely unquestionably amazing content.
Having said that, I still believe that PageRank has its place in our arsenal of tools that we use to develop our sites.
Although PageRank may not be the most powerful factor in determining our website's success on the search engines, it still helps some and as such we should at least spend a few minutes to become familiar with it.
Many people believe that PageRank is completely unimportant and that people are misguided to judge the credibility of a website at all on PageRank.  Look at this comment that I received yesterday:
What do you think if we put below kind statement in out blog, "This blog has 0 pagerank but the knowledge that you will get is the best that you can get." Will it give impact to our visitors/advertisers?
My response to that idea? I think that people will immediately click away.  A statement like that will destroy your credibility to anyone who understands PageRank.  Essentially you are telling people, "I know that nobody else links here.  I know that very few other people think the content here is worth viewing or linking, but I'm telling you that the content here is amazing and you'll love it."
How PageRank Helps Your Website
PageRank is important.  Not just because of the help that it provides in being listed on Google, but because of the impact that it has on our websites as we work on building PageRank.
The most effective way of building PageRank is to improve the quality of your website. Transform the content until it is amazing. Make the navigation clean and easy to use. Make the layout beautiful and fun to look at. Engage with your readers and build relationships with other bloggers.
These are the keys to building inbound links and these are the keys to building PageRank.  Would you tell me that these steps are bad for your online presence or that they would hurt you in some way? Focusing on those things would be the best thing that many webmasters could do.
What say you?