Capturing User-Generated Video To Smash It Online
Looking for an amazing yet affordable theme for your site? Join Elegant Themes for the all-inclusive price of $39, and you're only paying 50 cents per theme!
Our host today is Sean Rosensteel. If you're interested in getting in front of the readers of Site Sketch 101, check out our guest posting invitation here.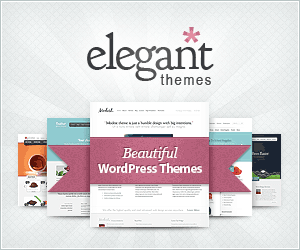 Most businesses use the Internet in some way or another to interact directly with their customers. However, few businesses are actually taking advantage of user generated video content to increase conversions, further credibility and boost sales.
USER-GENERATED VIDEO IS BENEFIT-RICH
User-generated videos, when used on your website, blog or social media sites offer plenty of advantages. First and foremost, authentic customer videos are often times more reliable than commercial advertising since they can verify that your product is credible and trustworthy. Secondly, customer videos can make websites more interactive, which increases the bounce rate (time spent on a website).
HOW TO GET VIDEO TESTIMONIALS AND REVIEWS FROM CUSTOMERS
Getting your customers to take that first step is a relatively easy process. Here are some tips on how you can guide them in the right direction:
1. Ask them to do it. Place reminders on your website, newsletter, brochures, social media and other advertising materials.
2. Make it easy and simple for them to send in their testimonials or product reviews. Avoid requiring registration as this could negatively impact the amount of feedback you ultimately receive.
3. Reach out to them right after a sale, while their memories and emotions are still fresh. You can request their testimonials, reviews and feedback directly on your purchase or email receipts.
4. Know where your customers are posting their comments about you. Don't be afraid to get involved and ask them directly for their feedback.
5. Provide a few different avenues for submitting reviews/feedback. Your Facebook fan page, your website, and other third-party sites like Google Places or Yelp are great places to start.
TOOLS FOR CAPTURING USER-GENERATED VIDEO
Here are a few tools, which will allow your customers to easily create their videos:
1. Mobile phones. Most mobile phones can capture raw, authentic videos from your customers. The only drawback to receiving these mobile phone videos ist at the customer will have to send you these videos via email attachment.
2. Skype. This does not have a built-in recording feature (unless you're video conferencing with that customer), but video recording is possible by using any of the following:
a. Video capture card connected to the computer running Skype.
b. Third party software application such as Pamela, CamStudio, VodBurner and Call Recorder installed on the computer running Skype.
3. Bravo Video. This is simple way to capture user-generated videos. Bravo enables businesses to capture video from customers, users and fans – right over the web.
Capturing user-generated video for testimonials and reviews can be an affordable, effective way to increase conversions, improve credibility and boost sales. Use one of the methods listed above and go recruit your best salespeople (your customers) to tell their stories!