Blog Virgin: Your Niche To Your Fish
Looking for an amazing yet affordable theme for your site? Join Elegant Themes for the all-inclusive price of $39, and you're only paying 50 cents per theme!
Our host today is Brandon Connell. If you're interested in getting in front of the readers of Site Sketch 101, check out our guest posting invitation here.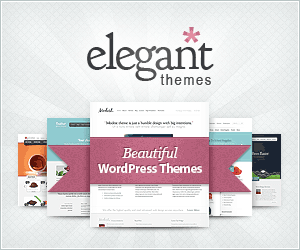 When you start blogging, there is so much that you will find you did not account for. You have to decide on the right hosting method and what domain fits your personality.
I can tell you right now that it is wise to host your blog on your own. Bluehost can take care of those needs for you at a reasonable price, and you will have full control over your blog unlike in a free-hosted solution like Blogger.
Alas, this is not a how to start a blog article. So let me get straight to it. As a blog virgin, you have some serious work ahead of you. But your biggest obstacle is how you decide to manage it.
The Beginner's Road to Blog Comments
My issue is that I started my blog 4 months ago, and I have 250 articles as of today. The problem is that I should have focused more on the marketing aspect because I only have 800 comments.
The good thing is that I caught on and now my comment count is rising on a daily basis, even on older articles. If I focused more on commenting on other blogs, I could have thousands of comments right now.
I am a regular guest poster on Smart Bloggerz and Rob's Web Tips nowadays, and I see that their post count is way below their comment count. This means that they went the proper route and got readers active within their community which add substance to their blog. The same goes here at Site Sketch 101 because of reader loyalty.
My lack of blog commenting made it inconvenient for my regular readers now because I often hear from them that I put out so much content that it takes most of their days just to catch up on everything I have written. Some of them have spent so many hours catching up that they know more about me than I do!
Understanding Your Niche
Another issue I had was that I did not choose my niche from the beginning. I created my blog to establish myself as an author and promote a new ebook I had developed.
Not long after, I made my ebook available for free as a part of my newsletter subscription and I now had my niche. That niche was to teach others how to market and make money from their blogs. I make it a daily mission to tell others what not to do because I was an expert on that by that time.
Choosing a niche is very important. Once you lock in your niche, you can focus on promoting that niche rather than just going out there willy-nilly. We learn from out mistakes, but my readers will never have to learn from those mistakes because I lay it out for them. In hindsight, I wish I was able to realize what topic I loved to write about because that would have enabled me to focus on valuable content for both my readers, and the search engines.
If you did not choose your niche from the start, don't get all upset because there is a positive side. I have seen some of my off-topic articles receive a huge amount of search engine traffic because someone was looking for the information that I put out there.
It is important right now to really think hard about what you love so you can write often about it. If you are in this for the money and you have a strong topic that you love to write about, you will totally forget about the money and just want to express yourself. Once you do that, the money comes fairly easily.
That's what I did, and I got calls out of the blue from advertisers. I also got affiliate sales from articles I didn't realize that I posted in-text links on. I chose my niche, and I caught my fish.
Is something fishy on your blog?