A Lesson Every Web Designer Must Learn From Steve Jobs
Looking for an amazing yet affordable theme for your site? Join Elegant Themes for the all-inclusive price of $39, and you're only paying 50 cents per theme!
Our host today is Noel Addison Agnote. If you're interested in getting in front of the readers of Site Sketch 101, check out our guest posting invitation here.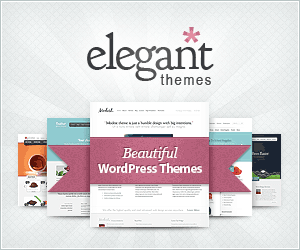 Last October 5, 2011, the world mourned as Steve Jobs passed away. Jobs is the man behind the innovations brought to us by Apple. Apple said they "have lost a visionary and creative genius, and the world has lost an amazing human being".  His visions introduced many technological innovations that completely improved and changed our lives. Many are saddened by his demise as he contributed so much in the advancement of technology and made the world better. Jobs' inspired and influenced people from all walks of life from world leaders, rivals in business, entertainment industry, co-workers and people like me who haven't even met him in person when he was still alive.
I truly admire his courage for thinking differently and setting higher standards in terms of innovation. Aside from his passion and dedication for his work there is another thing that website designers can learn from him, it is how he view "design" as an element of every craft.
"Design is not just what it looks like and feels like. Design is how it works." –Steve Jobs
People often associate design with beauty, form and how things are decorated in a way that it pleases our senses.  But a good design is more than just the way we see and perceive things. Design is how it affects and helps people. And same things go with web design, it is not just about the attractiveness of a website but its purpose and function just like what Jobs said, "Design is how it works".
Today, it is a challenge for every web designers and developers to design a website that can meet the increasing demands and short attention span of people. And this can only be done by making the website appear easy to use and functional. Websites should be created for the users of the website. The preferences and needs of your target audience have a significant role in choosing the graphics and color scheme. The color scheme should be chosen according to the taste of your site's target audience. Moreover, selecting the color scheme has a psychological impact to readers or visitors.  If the design is distracting or exasperating for the visitors there is a greater chance of losing them and driving them away from your website. Furthermore, it is necessary to implement a practical approach in the usability to make it more accessible.
The design of the website should contain the vital information that your target audience are interested to know.  Capture the attention of your audience by employing proper sense of emotion that you want to exhibit.
Keep in mind that design is created for a purpose, so make sure that your website design carries the message that you want to communicate. And as much as possible follow the K.I.S.S principle which stands for "Keep It Simple and Straightforward". Simple websites load faster and more navigable. Make it easy for people to reach you through your design, the less actions people have to carry out to achieve their goal, the happier they'll be.
Good Web design is the same as good design. It delivers your message to the people, gives essential information about your brand or company and most of all it is easy to access and use. The real essence of good website design is how it works for you and your potential client's advantage.