A Journey Through An Online Partnership
Looking for an amazing yet affordable theme for your site? Join Elegant Themes for the all-inclusive price of $39, and you're only paying 50 cents per theme!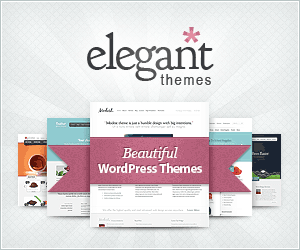 A few weeks ago, one of my best friends approached me with an idea for a new website. As you might imagine, I get a lot of proposals from people for partnerships in new ideas, but I decided to hear him out. His idea was to create a new website to compete with retailmenot.com. He explained how the combination of coupon codes and affiliate links and very carefully executed search engine optimization could lead us to a significant monthly income.
Being one of the smartest people I knew, he didn't have to work very hard to convince me of the validity of his idea. Within a day or two, we began construction on a custom-built website. We weren't going to use any content management systems like WordPress or Joomla! We were going to build this ourselves from the ground up.
First, we set out to find a domain name (see Names & Domains). We jumped into a Google Hangout and spent about two hours writing down ideas, checking their availability at GoDaddy, and laughing at each other's harebrained ideas. But in the end CouponCrop.com was born.
The next morning we began work on templating the site using PHP. We needed something that could take dynamic content on the fly, allowing us to easily dump information into the site. One of our main goals was to automate as much of the work as possible. This was especially important to me since I'll be deploying to Afghanistan next spring and as such I'll be unable to work on it as much as I would like to.
I began by building scripts that would scrub data feeds from Share A Sale, AvantLink, OneNetworkDirect, Linkshare, and several other mainstream affiliate programs. By Saturday night, just over a week ago, we were ready to launch with just over 100 retailers listed on the site with coupon codes. By Monday night, only 48 hours after launch, we had made our first affiliate sale with our commission being $9.00.
Throughout the week, we continued to add more retailers to our affiliate partnerships all the while focusing on automation. We added Macy's, CompUSA, GoDaddy, Precious Moments, Cabela's, Oreck, and several other mainstream retailers. In total, we now have more than 450 retailers listed on the site with active coupon codes.
Now, after only one week, we have already made well over $100. And, each day, our traffic is continuing to grow, we are continuing to find ourselves with higher listings in the search engines, and we are continuously optimizing and adding to the site.
As a smaller side note, the homepage of the site is already a toolbar page rank three, which is crazy considering it's only been online for about nine days now. The only linking we've done to the site is the footer link that you see here at Site Sketch 101. Maybe that's what did it. Perhaps not. Maybe you can explain that one to me.
Lessons Learned
Here's a few lessons that I've learned over the past few years that have really helped to accelerate the growth of my newest website. Hopefully you'll find some use in them as well.
Automation: The beauty of working online is that you can set projects up to run even while you're asleep. Just as I mentioned in my last article, the later you sleep in each day, the more money you make while you're sleeping. Automation doesn't work for a community website or for a social media presence, but on some projects, it can save a lot of hassle and allow you to keep your content fresh and up-to-date.
Observation: When I first began developing Site Sketch 101, I spent a lot of time staring at several websites that I wanted to learn from. I stared at Mashable, not just reading the material, but rather paying attention to every detail I could notice. I looked at what types of widgets they used, how they positioned their headers, how things were laid out. I tried to figure out why they did things the way that they did. I did the same with Problogger.net, Chris Brogan's Website, seoMoz, and several others. These were leaders in their respective online industries and I wanted to learn as much as I could from them.
Communication: Every day, my partner and I get on Google Chat and hash out new ideas. We also harshly criticize one another's ideas to refine them and develop them to their fullest potential. You don't get ahead by simply saying yes to everything someone says simply because you don't want to hurt their feelings. We tactfully discuss the advantages and disadvantages of each idea. We clearly communicate our thoughts with one another and we always explain the logic behind why we feel the way that we do about something.
Empowerment: There are many times when we've mildly disagreed on the way something should be done. In about half of those instances, I've told him that I trust him to make the final decision, even if it's not my own position, and I'll back him and we'll make it work. In the other half, he's said that to me before I could. It's been said that the only ship that doesn't sail is a partnership. We understand that in order to make this work, we're going to have to trust and respect one another enough to move through our different ideas.
Mutual Respect: This point goes hand-in-hand with our previous note. How can you empower someone and trust their decisions if you don't respect them? You can't. I would never, ever partner with someone that I did not have the utmost respect for. My partner on this project has proven to me in the past that he is intelligent, competent, responsible, organized, tactful and incredibly hard working. Without that respect, I wouldn't be able to allow him to trump my ideas when we butted heads. With that respect, we've been able to sail smoothly through the creation process without any hiccups.
Diversity: Last night when we were chatting on Google Chat, he sent me this message, "I feel like I have 50 tools in my tool belt to work on the site, and you have 50 tools in your toolbox for the website; yet we only have about 6 tools that are identical." He couldn't have been more accurate. There is no way I could have launched this site with any level of success without his expertise, and there's no way that he could have done it without mine. Our respective talents have complimented one another and made our team truly greater than the sum of it's parts.
Organization: He and I are both incredibly organized. In fact, the other day, I modified the width of one of the columns in one of our shared Google Docs spreadsheets, and he noticed it just minutes after I did. I love that level of organization. We have several worksheets in our database that are quickly filling up with information. We track every single change that we make to the website using a revisioning application called Assembla. We even use tickets to record our ideas and track their progress as we work. This level of organization has allowed us to continue moving forward with incredible efficiency.
So far we're having a blast working on the new site. It's been loads of fun and it's already profitable. Usually that doesn't happen overnight like it has for us. It often takes a long time to grow web traffic and create a profitable venture.
When I launched Site Sketch 101 back in June of 2009, it was several months before I made any money, and it was more than a year before I started making enough money to count it as anything other than a hobby.
Of course, now it seems to make more and more each month. In fact, July set a new record for passive income that I earned as a direct result of affiliate ads on this site. But this took time and lots of work. But now it's paying off in more ways than one.