7 Reasons Why Great Blog Photos Are So Important
Looking for an amazing yet affordable theme for your site? Join Elegant Themes for the all-inclusive price of $39, and you're only paying 50 cents per theme!
Our host today is Luke Clum. If you're interested in getting in front of the readers of Site Sketch 101, check out our guest posting invitation here.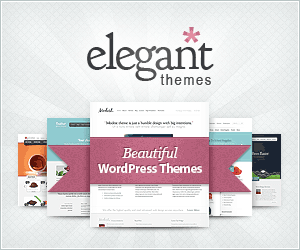 Think about the last time you were in a grocery store checkout line. Did you take a moment to check out any of the magazines? If you did, chances are you choose which one to pick up by the image on the cover. Just as you are drawn to beautiful magazine photos, your blog readers will also be drawn to high quality, relevant images included with your posts.
Choosing striking and relevant images for your blog post is the most effective way to ensure that people stick around to read your content. Here are some seven reasons why you should always include a few good photos in your blog posts.
1. Instantly draw people in
Articles with images get 94% more total views than those without. Posts with images instantly draw more readers into your article, so make sure your largest photo is your most eye-catching. Bad photos will not draw people in for as long as a high quality photo will.
2. Generate likes and shares
So a reader checks out your post, loves it, wants to share it with everyone they know. Perfect, so far so good. Now, when your post is shared or reposted, a well-chosen image can be even more important. On Facebook, for example, a shared post usually includes a line or two of text and a picture. Since social shares often rely on images more than text, your image has to do the talking. In a stream of quickly changing posts, an eye-catching photo can be your best asset.
3. SEO Benefits
Images hold reader attention longer and create more interesting pages; Google rewards these pages with "richer" content by giving them higher search result ranking. In order to reap the greatest SEO benefits from your images, be sure to optimize your images correctly. However, make sure your images don't slow your page's loading speed, as that can have negative SEO consequences.
4. Enhance your site's credibility
Illustrating your post with some high-quality stock photos can make your blog look professional, attractive, and generally give the impression that you know what you're talking about.
You wouldn't trust a cookbook which featured poorly lit, awkwardly arranged dishes. It's not exactly a fair or necessarily accurate assessment of value, but people tend to make instant judgments based on images. If you can make that tendency work in your favor you'll be ahead of the game.
5. Create a visual resting stop
Another important function that images can serve is to visually lead the reader through text. When we set our eyes on a screen full of words it can sometimes appear overwhelming. Images work similarly to headings and subheadings, as they break up large chunks of text in a way that makes them appear more manageable and easier to understand.
6. Stand out from the crowd
As a writer, one of the challenges of the internet is that, with so many options to choose from, you have to work to hold people's interest. Most readers don't often take the time to read through much of your content before making a quick decision whether or not they are interested. You can entice them to read further with some thoughtfully chosen images.
7. Leave a lasting impressing
So we've covered how images can make an immediate impact, and how important that quick first impression can be. Good images also have a unique ability to stick in people's minds long after they see them. The more ways our senses are stimulated, the more engaged we become. And if you have video to use in harmony with images and text to illustrate your ideas, all the better. At the end of the day, when people think back on all of the things they've heard and read and seen, great visuals are a key to making sure that your ideas have made a lasting impression.