7 Blogging Blunders to Avoid Like the Plague
Looking for an amazing yet affordable theme for your site? Join Elegant Themes for the all-inclusive price of $39, and you're only paying 50 cents per theme!
Our host today is Scott Hersh. If you're interested in getting in front of the readers of Site Sketch 101, check out our guest posting invitation here.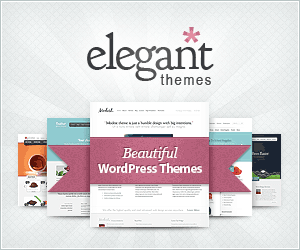 The Best Blogging Advice in the World You Already Learned in Pre-School. Remember show-and-tell time in pre-school? Some of the other kids were great at show-and-tell and some sucked. The kids that were best at it where the ones that shared what they had for the benefit of the other kids in mind.
On the other hand, there were the kids who bragged about whatever they had or talked over everyone's heads without focusing their presentation on the other children. Maybe I am reading into pre-school show-and-tell too much here, but you get the point. The long and short of it is to make your readers happy and they will help you go viral. Here is a list of no-no's for bloggers to avoid at all costs.
Ho-Hum Title
So many bloggers work really hard at developing a crafty post in a creative and enjoyable way and then they blow it on the title. The title serves as an advertisement to convince people to take the time to read the article.
Topic Mish Mashing
Being a well balanced person with a variety of interests comes in handy for things like job interviews, dating, and making small talk with cab drivers, but when it comes to your blog, having too many topics prevents people from wanting to get involved. If you are interested in both knitting and computer programming, making a blog about "The Computer Programming Yarn-a-Holic" will probably not engage many readers. Instead, stick to either computer programming or knitting.
If you have a lot of extra time on your hands you can make two separate blogs, but don't try to mishmash topics that don't belong together. Bloggers that try to include everything about themselves in their blogs are focusing too much on themselves as opposed to focusing on their readers. That brings us to the next point.
Self-Centered Blogging
The blogger that focuses on themselves as the center of their blog doesn't leave much room for the reader to become a part of the experience. They also make other mistakes such as ranting, blogging just for the money, and not engaging the reader (see below).
Search Engine Centered Blogging
How would you like it if the person you were in a relationship with starts chatting-it-up with someone else in the middle of your big date? That would be a little weird, to put it lightly. So when you write a blog post, having the same consideration is important. In other words, do not take your readers out on a date, while chatting-it-up with Google.
Ranting
I'm not saying never to rant, but just keep your readers in mind if you do it. Ask yourself, "Does this rant add to the lives of my readers in any way that they can appreciate?" If the answer is "No" then cut it out. Thanks to my wife, I learned to apply this rule in my real life relationships too.
Blogging for the Money
There is a difference between greedily marketing to readers in hopes of getting rich off of them, and presenting products and services for their benefit. There are no hard-and-fast rules about how much is too much, but when the blog starts to look like a sales page, it's too much.
Not Allowing Readers to Shine
Even if you have great content to present to your readers avoid making it into too much of a presentation. Great bloggers empower and engage their readers. It's important to give your readers the space to help build and contribute to the blog. Ask them what they think, respond to comments, and include some of your readers' bits of wisdom in some of your blog posts.
Finally, blogging is a process of presenting your writing and yourself to an audience and ultimately building a mutually beneficial relationship with them. The job of the blogger is to build a relationship with readers by giving them everything that you can, and then giving them the opportunities to give back to you.