5 Design Tips To Enhance Your Brand's Exposure
Looking for an amazing yet affordable theme for your site? Join Elegant Themes for the all-inclusive price of $39, and you're only paying 50 cents per theme!
Our host today is Noel Addison Agnote. If you're interested in getting in front of the readers of Site Sketch 101, check out our guest posting invitation here.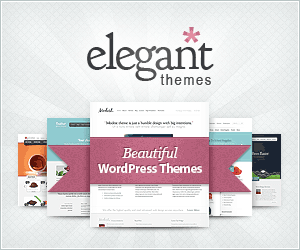 With the massive boom of the World Wide Web, many companies have started taking their brands online. The allure of reaching out to a bigger market is too much for even small companies to pass up. With millions of internet users, business owners understand that once they gain respect in the online front, their businesses would take one step higher in the ladder of success.
Building a website though is an arduous task. While one can get away with a bare-essentials website back in the early days of internet marketing, the same cannot be said in these modern times. Apart from making it standout from the millions of sites on the Internet, it is also the duty of internet marketers to make sure that their brand is imprinted in the minds of every visitors of their website.
#1
The Logo
One of the first things that you need to take care of is your brand's logo. If you are not good at drawing a logo from scratch, you can easily find freelancers to do it for you. Once you have that done, or if you already have one used in your offline business, make sure that it is prominently displayed in all pages of your website. The top left of each page is the best place for it as internet users are used to seeing the name of the website displayed in that space.
By having your logo in all pages of your website, you ensure that every visitor to your website, no matter what page they land in would instantly know where they are. An eye-catching logo would further pique their interest to learn more about your company which brings me to the next web design tip.
#2
The Footer
Have a uniform footer that would be displayed in all pages of your website too. In the footer, make sure that there is a link to your "About Us" page. By doing this, once you have grabbed the attention of website users, they can easily navigate to that page to learn more about what you do or what products you are offering.
#3
The Tagline
A tagline is also strongly recommended. Big name brands have always used taglines to tell people what they are about. Think of it as your "About Us" page compressed into a phrase of a few words. Your tagline should be catchy and at the same time have something to say about your business.
#4
The Favicon
Since we are talking about web design, it is also a great idea to have your own favicon. A favicon is that small graphic that appears next to the URL in the address bar of browsers. This is an easy way for people to check what sites are open in what tabs. While it would entail making another design, usually a smaller version of your brand's logo, it goes a long to ensure that your site users would have an easier time looking for your website especially today where multi-tabbed browsing is the norm.
#5
The Color Scheme
Pick a good color that would match what your company does and use it as a theme for your site. When picking the color, make sure that it would be easy on the eyes. Stay away from loud colors as it could be straining to the eye, an inconvenience that could drive potential customers away.