10 Mistakes I Made As A Brand New Blogger
Looking for an amazing yet affordable theme for your site? Join Elegant Themes for the all-inclusive price of $39, and you're only paying 50 cents per theme!
Our host today is Ronnie Tabor. If you're interested in getting in front of the readers of Site Sketch 101, check out our guest posting invitation here.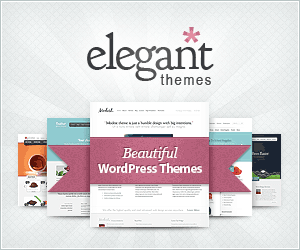 I was given a nine day notice that I would be leaving my family behind for nine months. As a military professional the inevitable call was made and it was my turn to go down range. The dilemma I faced back in May of 2007 was how to keep in contact with my family and friends. I was not looking forward to sending everyone e-mails because time would be a precious commodity. So with a few Google searches I was introduced to the concept of blogging and in less than an hour I had created my presence on the internet residing at www.taborrw.blogspot.com.
I was officially a blogger. The fact that I could post via email was icing on the cake. What I learned over the next nine months and keeps me blogging to this day was that my simple thoughts displayed on my site helped people. My initial blog was about my experience in Afghanistan. I never expected to hear from so many moms, dads, husbands, wives, brothers and sisters with a family member deployed with me. My words turned into therapy sessions for these families giving them an opportunity to see what their airman, soldier, sailor or marine was experiencing.
When I returned stateside my blog frequency dropped to the point that I only posted once in 2011. Then the wake-up call came one day in June while listening to a podcast. The thought of blogging again became exciting on many levels. Writing about a subject you are passionate about gets the adrenaline flowing and mine was overflowing.
Given the network age we live in blogging can be a zero cost startup operation. This time however I was in it for the long haul and wanted to make my mark on the internet superhighway just like the initials carved into a tree 30 years ago and chose to purchase my own domain and pay to host my site www.ronnietabor.com.
My site is about lessons learned and boy did I learn a few lessons about starting a blog. I have always been told that you can learn from your own mistakes or from the mistakes of others. Here are ten mistakes I made or almost made that you can avoid in starting your blog.
1. Not Using WordPress
My first run blogging was free through Google's blogspot. With a little work on my part and a lot of help from Wikipedia I discovered that WordPress blogs accounted for 22% of all new websites. Best of all it was FREE! Seeing the template style and plug-ins that reminded me of purchasing apps for my iPhone, I did not need to know anything else and took the bold step of adding to the WordPress statistics.
2. Buying the first theme you see
They saw me coming a mile away. I purchased my hosting plan, secured my namesake and went to town on my WordPress blog. Taking advantage of the 1-step WordPress setup I came to the screen about choosing a theme. I was ignorant to what came in the box, so to speak, and when the theme screen advertised one for $49 I eagerly jumped. Thinking to myself that if it costs money it has to better than anything that might be free. Imagine my shock an hour later, when the theme did not work as advertised and I discovered four themes pre-loaded which looked and worked better.
3. E-mail blasting all your friends
I knew better but I succumbed to the narcissistic voice in my head and hit all my family and anyone I wanted to think was my friend up with an e-mail boldly announcing my site. I am confident I set alarms off at Face Book headquarters with all the messages proclaiming the greatest website this side of the Mississippi. My friends took it with a grain of salt and put their delete button to good use, a few though could not resist the urge to read about my life.
4. Using an untested plug-in
For the first five days things were going along smoothly. I hit 143 views on the second day and began to contemplate my life after retiring from the military as a blogger. After all everyone's site was making them $32K a month, I just needed a little time. As part of my $32K a month strategy I needed to take advantage of every plug-in. That is when things got exciting, I loaded a cool sounding plug-in and activated it. Quickly switched over to my site to see my work of art, only to be horrified when everything was gone. Back to the dash board I jumped, breathed a sigh of relief when my information was there just in in inactive widgets. However this was short lived, because each time I made them active and saved the update all the information disappeared. It wasn't until 12 hours later, after I completely deleted the plug-in that I could begin to rebuild my newfound empire.
5. Designing your own logo
Being a graphic design expert, in my own mind, I considered developing my own logo. What could go wrong with GIMP in my corner. Discretion won out when I came across www.logonerds.com and purchased a logo for $27. This logo choice gave me another reason to seek my friends help by conducting a survey asking the audience to help me choose. All the while advertising my site.
6. Affiliate, what's an affiliate
Remember my $32K a month plan? Pursuing it, I discovered a million or so affiliate programs. It was at this point I began to realize how much I didn't know, that I didn't know. My advice to you here is to go slowly and learn as much as you can about each affiliate offer. Learn from those who have gone before and have demonstrated success.
7. Fire and forget
In the Air Force we have a type of missile we term "fire and forget." This weapon once fired acquires its target and does the rest, leaving you the opportunity to attack the enemy from another direction. Hosting a blog is not this type of weapon. If you are going to blog as more than just a hobby you need to master consistency. The time frame is up to you but you need to know what it is and stick to it. If you have anyone following you they will come to expect your fresh content. If you lose their attention you may never get it again.
8. I don't need no stinking spell checker
I am no English major and it shows in my posts as you have already gathered. But I do have a friend in Mr. Spell Checker. He works for free and is right 99% of the time, however I have to let him out of the closet to avoid my son sending me a text asking me if I really meant to spell the word '"drueling" in my post. Do not let your desire to publish content get ahead of 30 seconds of spell checking.
9. The bloggers thinking trap of "Me, Me, Me"
One of my jobs in the Air Force is as a Master Resilience Trainer. In the course we teach a concept called thinking traps. One thinking trap that can be applied to bloggers is the "me, me, me" thinking trap. I needn't remind you that there is no "I" in "blogger" and you should be sure to focus your blog on people other than yourself from time to time.
10. Guest posting
As a new blogger do not make the mistake of trying to be a world unto your own self. The internet is all about interaction and with over 6.7 million blogs you would be wise to seek out guest posting opportunities. The veterans remember what it was like to get excited over 143 views in one day and guys like Nicholas Z. Cardot offer up and coming bloggers a platform to allow their voice to be heard and their site an opportunity to be seen by more people in one day than they would have seen in months.
Learn from my mistakes and make the most of your trip on the internet super highway!